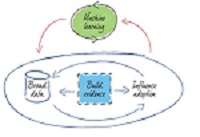 Data is growing so fast (OMIC's* / Sensors** etc.) that analysis is already beyond human capability.
Learning algorithms have the potential to solve the problem and deliver unprecedented improvements in efficacy & ROI.
In this episode, Dr. Byrne unpacks some edge-thinking related to learning algorithms and shares his perception of why it's
critical for H.W.B. innovators to stress-test their core assumptions and foundational thinking around this critical force.